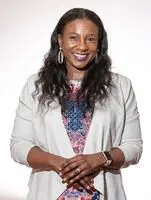 Ophelia is the owner and operator of Charity Faith and Hope Counseling Services. She is a licensed clinical professional counselor who completed her PhD in Counselor Education and Supervision with an emphasis in Marriage and Family Studies at Kansas State University. She is a National Board Certified Counselor, Certified Clinical Mental Health Counselor, and a Minority Fellowship Program Fellow (NBCC MFP). Additionally, she is a Kansas state board approved clinical supervisor.
Ophelia utilizes an integrative approach to therapy. Her primary treatment approach is client centered therapy. The client centered approach has a successful outcome with all ages, couples, families, and groups. Additionally, it allows clients to strive towards self-actualization and growth. Ophelia follows the client's lead in therapy, and she uses the client as the resource for direction.
Ophelia also utilizes cognitive behavior therapy (CBT) which has empirical evidence in treatment outcome. She is a certified cognitive behavioral therapy specialist (CCBTS). CBT is effective in treating Post-Traumatic Stress Disorder, depression, anxiety, social anxiety, phobias, obsessive-compulsive disorder, substance and alcohol abuse, anger, and schizophrenia. In Addition, CBT also has a positive effect in the area of communication training, problem-solving, and has been found highly effective in family and relationship distress.
Ophelia believes one the most important primary needs of individuals is to have secure emotional attachments with those whom they are close to (i.e. parents, children, spouses). Ophelia utilizes family systems and attachment processes in her work with individuals, couples, and families that have experienced past and present trauma or distress in their lives or interpersonal relationships.
In the area of Marriage and Family Therapy, Ophelia works with couples to
Prepare and enrichment marriages
Overcome communication barriers
Restore trust after infidelity
Develop healthy boundaries
Process emotions around separation and divorce
Blend families
Learn positive parenting skills
Adjust to military marriage and lifestyle
Ophelia's counseling practice includes working with individuals who are faced with a variety of issues which include:
Trauma, PTSD, grief and loss
Anxiety
Depression and mood disorders
Anger management
Military deployments, pcsing, transitioning into the civilian world
Diversity and racial identity issues
Career change / Major life transition
Christian counseling